Join us to welcome Jacqueline and help raise awareness.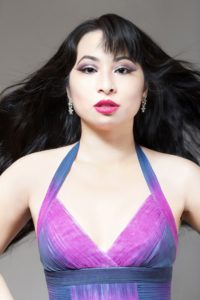 We are excited to welcome Canadian opera singer, producer, and disability advocate Jacqueline Ko as our new OMF & OMF Canada Ambassador!
Despite her struggle with ME / CFS, which left her bed-bound for years, Jacqueline has received multiple awards for her singing, and critical acclaim for her roles in opera, theatre, musical theatre and film. She is also the founding artistic director of Opera Mariposa, a disability-led arts organization in Vancouver, Canada that showcases opera's rising stars.
Jacqueline came down with ME / CFS at age six and was diagnosed at age 10. Throughout the worst years of her illness, her love of music is what kept her going — and at age 17 she merged her love of music with advocacy by presenting her first Benefit & Awareness show for ME / CFS. Since then, Opera Mariposa's annual Benefit & Awareness events have raised over $80,000 for treatment, research, education and patient support, and Jacqueline's story has been featured in the book Lighting Up a Hidden World: CFS and ME by Valerie Free. We're excited that Jacqueline is speaking out in support of OMF and OMF Canada, and can't wait to work with her to keep raising awareness!
In addition to acting as our Canadian OMF Ambassador, Jacqueline continues to fight for disability issues through her work with Opera Mariposa. Her company promotes inclusive casting and accessible performances, and Livestreams many of their shows for free — a boon to ME / CFS patients around the globe, who can enjoy live musical performances from home. Mariposa's next production is the Italian comic opera "Gianni Schicchi" by Puccini, coming to the stage November 15-23, 2019. To learn more, visit the Opera Mariposa website, and be sure to connect with Jacqueline and Mariposa on social media! (Photo above by Kathryn Nickford Photography)
Learn more about Jacqueline.Follow Jacqueline Ko: Facebook | Twitter | Instagram
Follow Opera Mariposa: Website | Facebook | Twitter | Instagram | YouTube