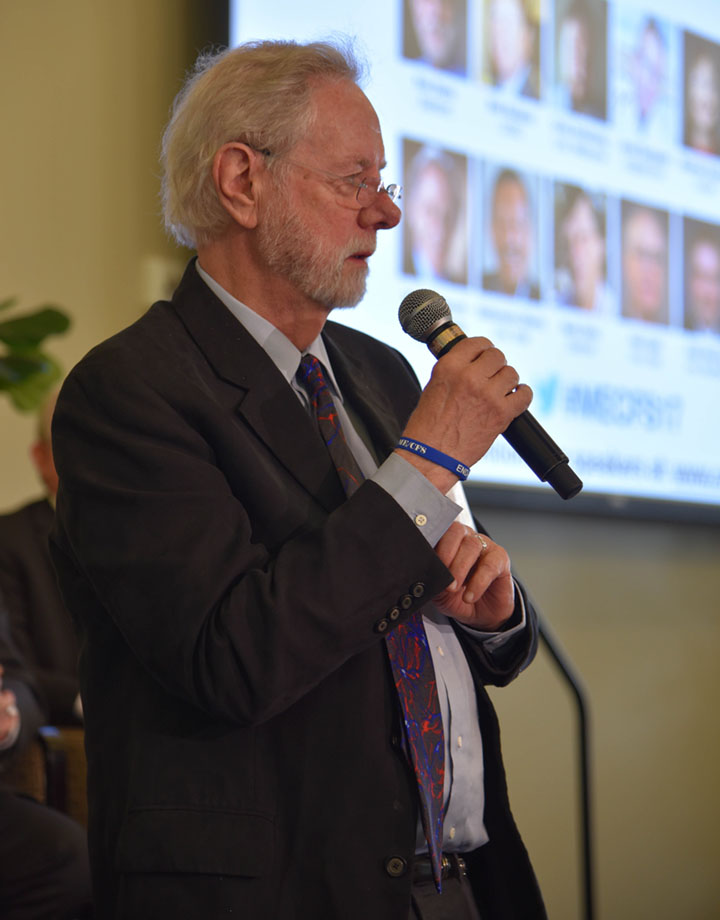 We zijn er trots op een subsidie aan te kondigen voor het ME / CFS Collaborative Research Center aan de Universiteit van Stanford dat door Ronald W. Davis, PhD, voorziter van onze medische adviesraad, wordt geleid.
Dr. Davis heeft een team wetenschappers van wereldklasse om zich heen verzameld waarvan er velen hun expertise nog nooit concentreerden op ME/CVS. Hij heeft meerdere innovatieve projecten gepland die ons zullen helpen om de moleculaire basis van ME/CVS te begrijpen, betere diagnostiek te ontwikkelen en nieuwe behandelingen te ontdekken. Gezien het aantal en het kaliber van de onderzoekers die deze subsidie zou activeren, en der waarschijnlijkheid dat deze research baanbrekende ontdekkingen zal opleveren, heeft de OMF besloten dit uiterst veelbelovende voorstel te subsidiëren.
Al hebben de NIH besloten dit plan niet te subsidiëren onder de noemer van een van hun
Collaborative Research Centers (samenwerkende researchcentra) toch zijn wij van mening dat dit werk te belangrijk en veelbelovend is om het niet voort te zetten. De kans om een wetenschappelijk team van dit kaliber bij elkaar te brengen voor ME/CVS research willen we niet missen en we hebben van velen van jullie gehoord dat die er net zo over denken! Daarom subsidiëren wij het eerste jaar van dit cruciale werk voor 1,2 miljoen dollar, die onze vrijgevige patiëntengemeenschap bijeen heeft gebracht.
Wij hebben jullie steun voor dit geweldige team nodig om na het eerste jaar door te kunnen gaan om deze projecten te voltooien. Subsidie voor een jaar volstaat om aanzienlijke vooruitgang te boeken, maar om deze ambitieuze projecten te voltooien en te publiceren zullen meerdere jaren nodig zijn.
We need your support for this amazing team to continue beyond year 1 to complete these projects. One year of funding is enough to make significant progress, but these ambitious projects will require multiple years to complete and publish. Doneer daarom alsjeblieft vandaag nog om deze baanbrekende research te steunen en verder te laten gaan.
Het ME / CFS Collaborative Research Center aan Stanford zal aan drie projecten werken die van vitaal en fundamenteel belang zijn om deze ziekte te begrijpen en diagnoses en behandelingen te ontwikkelen:
T-cellen en de moleculaire immunologie van ME/CVSDe seqw
Het bepalen van de sequentie van T-cellen en te ontdekken waar zij zich op richten
Verder uit te breiden big data studie in gezinnen
Sequentie van genoom, gen-expressie, metabolomica, cytokines, klinische kenmerken enzovoorts
Ontwikkeling van diagnoses en de technologie om medicijnen te screenen aan de hand van bloedmonsters
Snelle, goedkope diagnoses van ME/CVS mogelijk te maken en het ontdekken van nieuwe behandelingen
Wil je meer weten over het wetenschappelijke plan achter deze projecten en het unieke team waaruit het Collaborative Research Center bestaat, bezoek dan onze webpage."
De lijst aan dit project verbonden researchers is schier eindeloos en bevat meerdere Nobelprijswinnaars. Zie de website van de OMF zelf
Support the Collaborative Research Center
for a cure for ME / CFS.
Let's continue the progress!
 Donate Now