The conference is going great! Organizers Richard and Pia Simpson planned a phenomenal 2-day science program once again, with over 100 researchers in attendance.
OMF Scientific Advisory Board (SAB) members Ron Davis, Ron Tompkins, Oystein Fluge and Wenzhong Xiao, as well as OMF Science Liaison Chris Armstrong, spoke yesterday. OMF SAB Members Jonas Bergquist and Maureen Hanson are speaking today. Here's the complete lineup of OMF's SAB members presenting at the conference:
Ron Davis – Establishing new mechanistic and diagnostic paradigms for ME / CFS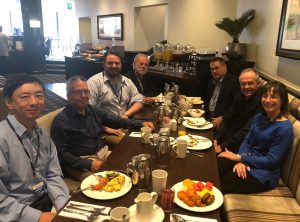 Ron Tompkins – Harvard Plans for Clinical Research.
Wenzhong Xiao – Severely Ill Patient Study of ME / CFS
Oystein Fluge – Targeted metabolic profiling and associations to clinical data in ME
Maureen Hanson – Extracellular Vesicles in ME / CFS
Jonas Bergquist – Proteomics and autoantibodies
Dan Peterson – (Presentation title TBA)
Our team is thrilled to be participating in such a productive conference, we send our warmest regards to the entire OMF community.