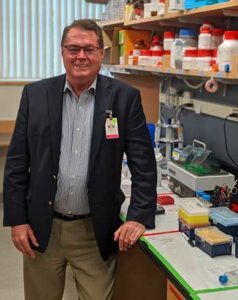 In my role as Founder & CEO/President, and in partnership with our Scientific Advisory Board Director, Ronald W. Davis, PhD, I am thrilled to announce that Ronald Tompkins, MD, ScD has accepted the position of Chief Medical Officer of Open Medicine Foundation.
The role of the Chief Medical Officer will be to facilitate communication between the Collaborative Research Centers and Collaborators for OMF funded projects and drive OMF's overall strategic plan, which includes patient care, access to treatment, new technologies, and innovative diagnostics.
We are evolving from a basic clinical research focus to include support for clinical diagnosis and identification of treatment. It has become essential to have clinical leadership within OMF to work with the clinicians and patient community. There is a long-standing need to improve the clinical care of Myalgic Encephalomyelitis / Chronic Fatigue Syndrome (ME / CFS) patients, and the Chief Medical Officer will work with patients and clinicians towards this mission as well.
Dr. Tompkins may already be known to you as the Co-Director of the OMF-supported ME / CFS Collaboration at the Harvard-Affiliated Hospitals, the Sumner M. Redstone Professor of Surgery at Harvard Medical School, and Founding Director of The Center for Surgery, Innovation & Bioengineering at Massachusetts General Hospital.
In the weeks to come, we will be sharing more details about Dr. Tompkins' vision for OMF and ME / CFS research. His leadership in multidisciplinary, multi-institutional large research projects will energize OMF's efforts to ignite Myalgic Encephalomyelitis / Chronic Fatigue Syndrome (ME / CFS) research across the globe.
Stay tuned on this exciting new venture!
Warm regards,
Linda Tannenbaum