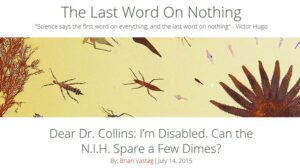 We're so pleased that many more are talking about the advancements we are making in researching ME / CFS. A former Washington Post reporter wrote the National Institutes of Health director, Dr. Francis Collins, telling him that this illness should be getting more research funds from the NIH. We couldn't agree more.
We have been in conversation with NIH personnel to find out what they want in grant applications to optimize our chances for approval. In the mean time, we are pushing forward with fundraising to get those discoveries that will improve patients' lives and create more NIH interest.
Brian Vastag's blog contains the letter contents, which describes his journey into ME / CFS and what promising research needs to be funded. He mentioned the genetic research of our ME / CFS Scientific Advisory Board director, Ron Davis, PhD. And he mentioned the MTHFR mutation research that we got the funds to do.