A special group of friends has banded together to host a fundraiser in honor of the Gelpi family at Grand Junction's Historic Avalon Theatre for a one-time screening of the Sundance Award-winning documentary, Unrest on Sunday, April 22, 2018.  Linda Tannenbaum, CEO/President of Open Medicine Foundation ("OMF"), is traveling to Grand Junction to attend this special event.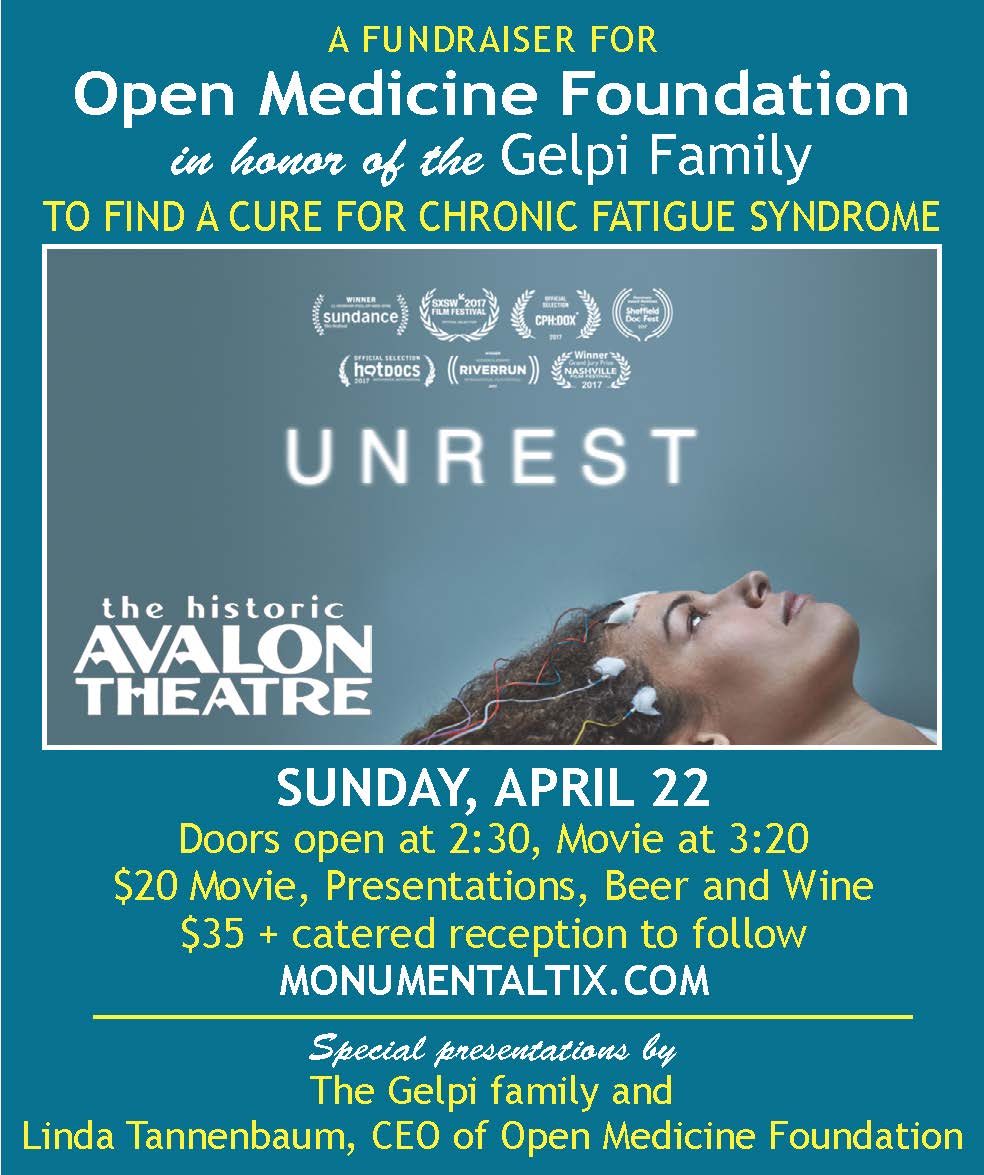 "We, as close friends and family of the Gelpis, have sadly observed their deterioration over the years, their struggles with navigating a health care system that often does not understand or have answers to their array of ailments, and have witnessed this disease come far too close to obliterating the spark from these women, who are truly some of the brightest, kindest and most spirited we've ever known. We have empathized in frustration and in heartbreak, to say the least, and with these emotions as our propellers, we have joined together to ACT and to ask you to act with us, to raise support, awareness and funding for this disease in their honor."
"Let's make our collective showing of Grand Junction community support a truly monumental downpour. Community is everything / Philanthropy wins.
Pete and Jordana Gingrass, Harry and Joanie Griff, Nick and Avery Santos of Café Sol and Mike and Barbi Bell of the Rockslide Brew Pub"
About Unrest:
At age 28, Jennifer Brea was working on her PhD at Harvard when a sudden fever mysteriously left her bedridden. Doctors dismissively told her it was all in her head. In an act of defiance, in Unrest, Jennifer turns the camera on herself. Often confined to her bed, she connects with others suffering similarly across the globe and documents their stories. Jennifer and millions of others have Myalgic Encephalomyelitis/ Chronic Fatigue Syndrome ("ME / CFS").
About ME / CFS:
ME / CFS also affects those – including our own loved ones – from Grand Junction. Three members of the Gelpi Family have been diagnosed with this disease. Each of them is too sick to work in the careers they once loved, and they all too often have days where they are physically too weak or in too much pain to even get out of bed. Plagued by frequent and unrelenting migraine headaches and brain fog, they are further limited in what they can do mentally. They will share their experience with us immediately following the film.
About OMF:
Established in 2012, OMF is a 501(c)(3) nonprofit organization with a targeted mission to end ME / CFS, which it deems a global crisis. OMF works with ME / CFS patients across over 100 countries and is led by an impressive Scientific Advisory Board that includes three Nobel Prize Laureates and six National Academy of Sciences members. OMF proudly funds the ME / CFS Collaborative Research Center at Stanford University, an international leader in this area.
ALL PROCEEDS FROM THIS EVENT UNREST TICKET SALES AND DONATIONS WILL GO DIRECTLY TO OMF.
Tickets for the film are $20, and include complimentary beer and wine donated by the Rockslide Brew Pub, Two Rivers Winery and Carlson Vineyards. Tickets for the film, complimentary beer and wine AND a catered reception after the film at the SpringHill Suites by Marriott are $35. Food at the SpringHill Suites reception has been donated by the Rockslide Brew Pub and Café Sol; beer and wine have been donated by the Rockslide and Two Rivers Winery.
Tickets for the film and film/SpringHill Suites reception can be purchased at the Avalon and through MONUMENTALTIX.COM. Direct donations to OMF can be made through this Donate link.
Event Photos